The 2017 Pebble Beach Pro-Am will be the 76th staging of the event, and sees amateurs play alongside the professionals.
It's certainly one of the more exciting events on the PGA Tour, with the mixture of high calibre golf and celebrities drawing a wider audience. The amateurs have to pay a rather large sum to be able to compete, which assists in one of the main goals of the tournament; to raise money for charity. Last year the Monterey Peninsula Foundation which hosts the event raised $10.8m for good causes.
Of course, these are not amateurs in the purist sense of the term. Often these 'amateurs' comprise rich business men (forty-seven CEOs this year), celebrities and musicians. Some of the stars playing at this year's Pebble Beach Pro-Am include Justin Timberlake, Kelly Rohrbach, Ray Romano and Bill Murray.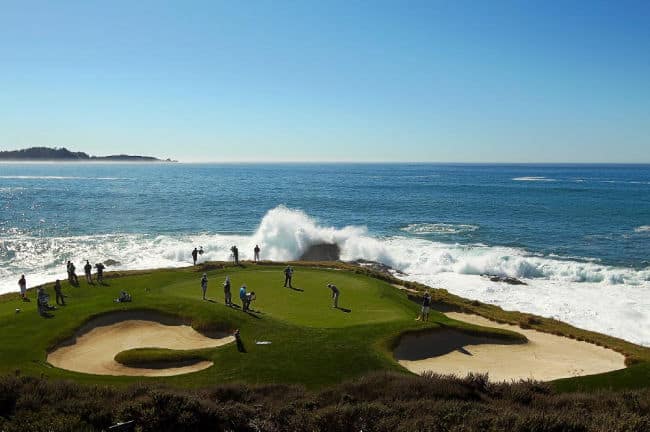 The format of the tournament sees each of the 156 professionals paired up with an amateur. There are three courses (Pebble Beach Golf Links, Spyglass Hill Golf Course, and Monterey Peninsula Country Club). Each day, the pairs play each course, rotating until a cut is formed. Those who make the cut will play on the Pebble Beach Golf Links. At this stage, the professionals and amateurs play different parts of the tournaments to win a trophy.
The total professional prize pot is worth $7m, and the professional winner will pick up a lovely $1.3m – all thanks to the generous amateurs paying their fees.
Pebble beach is the shortest course on the PGA tour, so it's no surprise that the highest average drivers don't necessarily perform the best here. Vaughn Taylor, who was the surprise winner last year ranked only 41st for driving distance in 2016. The small greens combined with the Pacific Ocean winds can make it a tricky course. The forecast for this year's tournament doesn't indicate winds will be too strong, however the forecast for Thursday has a 100% chance of rain, so there is likely not to be a lot of golf played on the first day.
The celebrities playing this year and their handicaps
From their handicaps, you can see that these amateurs can indeed hit a golf ball. During Wednesday's session, Justin Timberlake who has a handicap of 4 hit a birdie in a practice round. He still didn't win the hole though as Justin Rose hit a hole in one. Here is a photo Justin Rose shared on Twitter shortly after:
https://twitter.com/JustinRose99/status/829405049340190720
Here is the full list of celebrities to look out for, and their respective handicaps:
3 – Andy Roddick, Colt Ford, Alfonso Ribeiro, Jake Owen, Kelly Slater, Josh Donaldson
4 – Justin Timberlake, Kenny G, Bret Baier
5 – Charles Kelley
6 – Joe Don Rooney
7 – Peyton Manning, Aaron Rodgers, Matt Cain, Andy Garcia, Kelly Rohrbach
8 – Chris O'Donnell
9 – Huey Lewis, Josh Duhamel, Alex Smith, Tom Dressen
10 – Wayne Gretzky, Kunal Nayyar, Clay Walker, Carson Daly, Harris Barton
13 – Toby Keith, Bob Stoops
14 – Bill Murray, Mark Wahlberg
15 – Larry Fitzgerald, Larry the Cable Guy
16 – Bill Belichick, Ray Romano, Condoleezza Rice
18 – Gary Mule Deer, Thomas Keller
Where to watch the 2017 Pebble Beach Pro-Am live on TV
Sky have rights for the tournament, with coverage starting at 7pm on 9th February on Sky Sports 4. You will need to have Sky Go in order to legally stream the event.
2017 Pebble Beach Pro-Am Betting Odds
Although the outsider Vaughn Taylor won last year, with odds of 1000.00 starting the tournament, it was the biggest shock in the history of the tournament, and it's unlikely to be repeated this year.  Dustin Johnson starts as a narrow favourite. He has won it twice already, and is potting well which will be even more key than normally on Pebble Beach, owing to the shortness of the course. Here are the top five players:
Dustin Johnson – 8.50
Jordan Spieth – 9.00
Jason Day – 11.00
Justin Rose – 13.00
Phil Mickelson – 17.00
2017 Pebble Beach Pro-Am Betting Offers
This is one of the more high profile golf tournaments, so there are a few offers available. They require the bet to be placed prior to the tournament. Given the bad weather forecast, play might be delayed a little giving some extra time to put pre-tournament bets down.
Paying seven places – Paddy Power are paying out seven places on E/W outright winner bets at odds of 1/5.
Potential to get a £10 free bet – With Betway, place an outright winner bet on the tournament, and if the player you pick leads at the end of the first, second or third round, Betway will give you a £10 free bet.
Money back if your player comes 2nd or 3rd – Back a player to win the tournament, and if they don't win, but do come either 2nd or 3rd, Winner will refund your losing stake up to £25 as a free bet to use at the next golf event, the following week.