The UK has already bet tens of million pounds on the outcome of the 2017 General Election. As polls suggest the Conservatives' lead is narrowing, what do bookmakers expect will happen?
Odds constantly change as the campaigns develop. This reflects the bookmakers on-going assessment of how likely one party, or the other is to win. If you don't understand how betting odds work, then check out our article here.
At the start of the campaign, an increased Conservative majority was expected by most. However, since the election was called, Labour have enjoyed a surge in popularity.
May launched a manifesto which was not received well, owing to a lack of costings, and an unpopular dementia tax.  In contrast, a popular Labour manifesto that has resonated well with voters, has helped see the lead narrow.
This chart from The Telegraph shows polls data running up until the 27th May. You can see that the Conservative (blue) lead is continuing to narrow.  At the beginning of the election, May was set to increase her majority. Now, Corbyn (red) is set to reduce it, and win even more seats than Ed Milliband did in 2015.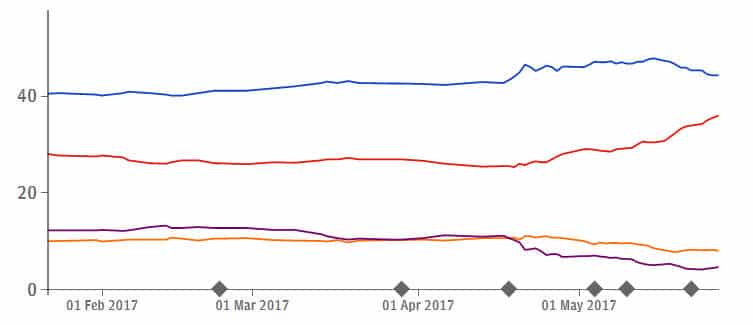 Last night May was heckled and laughed at in front of a live studio audience, broadcasted on Sky News and Channel 4. Despite that, and all of the changes in the polls, bookmakers remain confident of a Conservative victory on the 8th June.
When the General Election was first called, it was possible to back the Conservatives at 1.22 with William Hill. Despite the narrowing of the lead, odds to back them are even shorter now at 1.17. That suggests that William Hill are even more confident of a Conservative majority. Odds too have shortened on a Labour victory, moving from 15.00 to 11.00.
So there we have it. Betting sites are still getting ready for paying out on a Conservative victory.
You would think that with so much money being bet on the general election, that bookmakers would have one of the largest incentives to research and set correct odds. In fact, in the past they've got things wrong. Very wrong.
For the US Election, Paddy Power told the city that Trump winning cost the firm as much as £5m. What makes matters worse, is that after tapes leaked, revealing Trump boasting of sexual harassment, Betfair (part of the same company) calculated Trump as having only a 14% chance  of winning. On the back of this, Paddy Power paid out early punters who backed Clinton at the cost of £800,000. We know how this story ends, and it made for Paddy Power an expensive mistake.
So is it possible that bookmakers are set to get it wrong again? Possibly. Here are some things that could still affect the result on the 8th June.
Reliance on polls – Polls have shown themselves to inaccurate over the past few elections, including the 2015 general election, the US election, and the EU referendum. Although the companies behind the polls have made a lot of effort to improve their methodology, it's not clear whether the current polls are accurate. Is the Conservative popularity overstated, or is the Labour popularity surge understated?
Turnout of young voters – Older voters are more likely to go to the polling stations than young people, and are more likely to vote Tory. Labour have made an effort to appeal to younger voters this general election, and have used Grime artists to boost their appeal. How effective will this have been?
Impact of future TV appearances – Although May is reluctant to do any TV debates, both leaders are still set to do TV interviews. They're next due to feature on the 2nd June. Any on-air gaffs could swing the election.
General Election Betting Odds
Here are betting odds found on our top betting sites for the general election, accurate of time of publishing on the 30th May.
Conservative majority -1.12
No majority – 7.00
Labour majority – 15.00
May to continue as Prime Minster – 1.11
Coybyn to be the next Prime Minster – 6.50
The most important thing to do is ensure you go to the polling stations on the 8th June and ensure your voice is heard.