In this article, we take you through the best way to watch golf live streaming with different bookmakers.
We also compare golf live streaming sites and explain how to claim a welcome bonus from the top bookies. In the table below you'll find details of our findings. There are also details on the bonus available to new customers and a link to start the registration process.
Top 3 Golf Live Streaming Sites
Upcoming Events
There are still a number of golfing events scheduled before the turn of the New Year, with the following tournaments being live-streamed on Sky Sports Golf.
The CJ Cup
Shriners Children's Open
Sanderson Farms Championships
Competitions such as The Farmers Insurance Open, The Genesis International, The Honda Classic, Arnold Palmer Invitational and The Players Championship take place in 2022, in what is likely to be another entertaining year for golf fans.
It isn't clear whether these events will be broadcast live through some bookmakers, so we'd advise to check with your chosen bookie when each event tournament is taking place closer to the time.
The Honda Classic
The Honda Classic 2021 event was won by Matt Jones, and with 500 FedexCup points available, it remains a popular tournament.
The 2022 event is set to take place on 24th February and will last four days.
Arnold Palmer Invitational
Bryson DeChambeau is the current holder of the Arnold Palmer Invitational title, after winning the event in 2021.
It's set to take place on 3rd March 2022, in Bay Hill Club & Lodge, Orlando, Florida.
The Players Championship
The Players Championship remains a popular event on the golfing calendar amongst both players and fans.
It's set to take place on 10th March 2022 in TPC Sawgrass, Ponte Vedra Beach, Florida, with Justin Thomas being the reigning champion of the tournament.
Coral Live Streaming
Accessibility of live streaming
Coral's live streaming service is a reliable way for punters to watch events that they've placed bets on throughout the sporting calendar, and golf is no different.
Their website and mobile app are user-friendly, and with quality of their live streams are of a good standard, with events being clear to watch (dependent on strong wifi or 3G connection).
To access Coral's live streaming, simply click on the 'In-play' section on their sportsbook, before clicking on 'Golf'.
You will then be presented with events that are live, which you can place bets on, whilst also having the option to watch a live stream (as pictured below).

Live streaming isn't always available on some golfing events though, with the likes of Sky Sports holding some of the broadcasting rights to certain competitions.
Available bonuses and promotions
If you're a new or an existing Coral customer, then there are plenty of promotions available on a regular basis.
They set out a free bet as a welcome bonus to those signing up and then run several recurring offers throughout the year to coincide with big events on the sporting calendar, such as the Ryder Cup, US Open and UK Open.
Range of betting markets available
Coral's range of betting markets that are available to their customers is a real plus compared to some of their bookmakers.
They cover a considerable number of golfing events throughout the year with offers on a range of markets, from Outright bets heading into tournaments, as well as group betting during events.
Ladbrokes Live Streaming
Ladbrokes is a popular bookmaker in the UK, with it proving popular both online and in shops across the country.
They're another reliable bookie that offers live streaming of a considerable amount of golf tournaments, which is likely to attract new customers to their site.
Easy to find live streaming
Ladbrokes' live streaming of golfing events is easy to find for customers, as they simply have to access the 'Live Betting' section of their website and mobile app.
They can then select golfing events that are in play, and keep track of any bets whilst watching the live-streaming service provided by Ladbrokes.
Range of betting markets available
Ladbrokes have a number of betting markets available to their punters to choose from.
Outright betting, match betting, and Price Boots are all available on a number of golfing events throughout the calendar year, so there is plenty to choose from for Ladbrokes punters.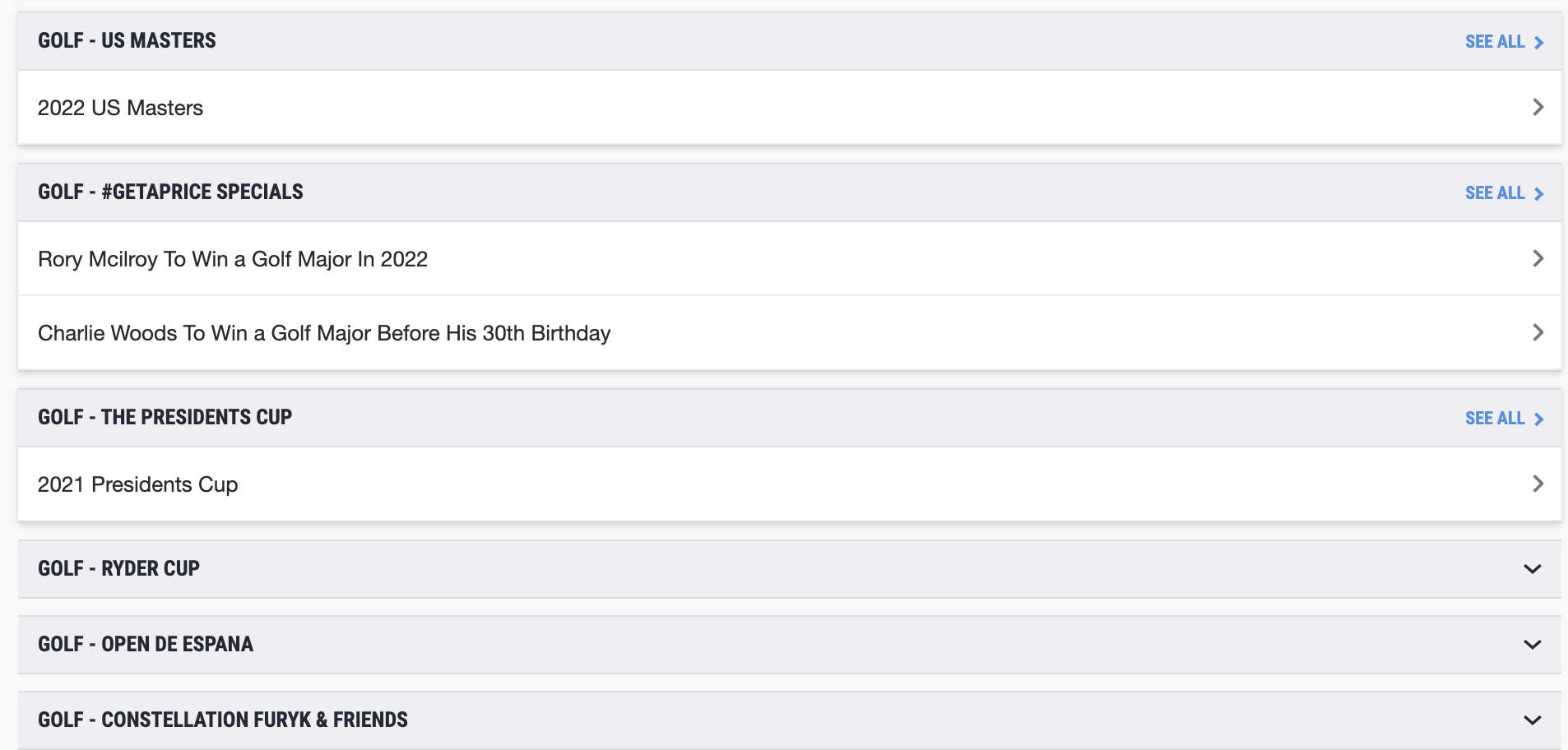 Betfair Live Streaming
Betfair is a popular bookmaker when it comes to the live streaming of sporting events, as they offer a wide range of live streams throughout the year. We take a look at some of the reasons why Betfair is up there amongst the best when it comes to golf live streaming.
Quality and service
Betfair's website provides their customers with a number of betting markets, and if punters are to experience any problems whilst using the bookmaker, their customer service team are on hand to find a solution to anything that punters may need additional help with.
Mobile-friendliness
Betfair's mobile app is another useful way for customers to watch live-streamed golf events from across the globe whilst on the go.
Through Betfair's mobile app, punters can make deposits and withdrawals, as well as using the promo code and being able to watch events through their live streaming service.
It's simple to use for their customers and is another real positive when it comes to betting on golf.
Range of betting markets available
Betfair has a considerable range of golf betting markets available on their website and with live streaming also available with them, you'd be hard-pushed to find a more reliable bookmaker.
They offer markets such as 1st Round Leader, Group Betting, Top Scottish Player, Player to miss the cut, and #OddsOnThat on a number of golf tournaments, including the Sanderson Farms Championship, which got underway in late September.
Some of Betfair's competitors don't go into as much detail when it comes to betting markets available on golf, so you can see why punters head to them over some other bookmakers.
How We Picked the Best Golf Live Streaming Sites
When picking our best golf live streaming sites, we've taken into account a number of different factors.
The quality of live streams, as well as the accessibility of live streams through certain bookmakers, has also aided our decision in picking out the best golf live streaming sites.
The use of live streaming on mobile devices is another way that we've chosen our best bookmakers that offer live streaming, as plenty of bookmakers are offering that service.
Which Other Bookies Offer Golf Live Streaming?
There are a number of other bookmakers that also offer live streaming of golf, although they haven't quite been strong enough to force their way into our top-three. The following bookies offer live streaming on golf:
bet365
Sky Bet
William Hill
888sport
Bet Victor
Paddy Power
Betfred
Boylesports
Betway
Sportingbet
All live streaming services are subject to availability and change; depending on your country of registration. Other T&Cs apply.
How to Access Golf Live Streaming
It's relatively simple for punters to be able to watch golf live streaming, and we've come up with the following steps for you to take if you're wanting to access events across the golfing calendar.
Register for an account as a new customer or login into your chosen bookmaker.
Make a deposit and bet on a golf competition.
Visit the free golf streaming schedule.
Click the relevant link just before the start of play.
Enjoy live golf on your desktop computer or mobile app.
How to Get a Betting Welcome Bonus
All bookmakers included in our list of the best golf live streaming sites offer new customers a welcome bonus when they register for an account. This comes in many forms but is most often found to be a free bet, price boost, or a cash-back offer. You may also be given extra places each-way when betting on the outright winner market.
Signing up is very easy to do and only takes just a few moments. For the best and quickest results, follow these points:
Click any link on this page to access your chosen bookmaker.
Hit the Join Now button at the top of the homepage.
Fill in the registration form, providing your name, postcode, and age.
Create a unique username and password.
Make a deposit and qualifying bet on sports.
Your welcome bonus will be added to your account balance and ready to use, depending on the terms and conditions.
An interesting thing to note about welcome bonuses is that you aren't restricted to just one site. For example, you can open an online account with every firm mentioned in this review of the best golf streaming sites. In doing so, you will ensure you always have access to market best odds on your selections while spreading your interest across multiple suppliers.
Golf Live Streaming FAQs
How do I watch a golf live stream for free?
Bookmakers tend to make it easy to view their golf live streaming. If you have a registered account you should be free to watch any golf live streaming. All you need to do is login and deposit cash to your account if you have an empty balance. Then visit the live streaming tab and click the competition link to watch on your phone or home computer.
How does live golf betting work?
One of the main reasons bookies offer live streaming is it encourages live betting. Also known as in-play betting, you can have your say at any stage of the competition. Many of the original, pre-tournament betting markets remain available to bet on in-play, with odds and markets updated.
Can you bet while watching a golf stream?
The great thing about the live streams offered by bookies mentioned in this review is they also allow you to place in-play bets and there's no need to visit another page or site. Click the link to watch the live stream and you'll also see stats, information, scores, and even live betting odds. You can follow live golf and place your bets in-play on the same screen.