Are you looking a range of the best French Open betting offers? We've got you covered. Our team of experts has put together a list of the top French Open 2021 betting sites to make life even easier for you.
Below you'll find a convenient table listing our choice of top sportsbooks offering French Open 2021 odds.
Best French Open 2022 Betting Offers
bet365 Tennis Accumulator Bonus
Up to 70% bonus for accumulators on selected tournaments at bet365.
Applies to pre-match accumulators of 2+ selections on To Win Match, First Set Winner and Set Betting markets. Bonus percentage is dependent on number of selections. Bonus capped at £100k and applied to winnings. Bet restrictions and T&Cs apply. New and eligible customers only.
How We Pick Our Best French Open 2022 Betting Sites
If you've ever looked for a competitive bookmaker, you'll know there is no shortage of options. Each claims to provide the best French Open 2021 betting offers, so how can you tell the good from the bad? The answer is research!
Once you've got a few options, we recommend comparing the French Open 2021 sign up offers. Welcome promotions reward you with a bonus that gives you a chance to increase your earning potential and help you to grow your account from the get-go.
While you're in the promotions section, it's a good idea to see what is available in terms of regular French Open betting offers. You'll get a feel for the value you can expect from the bookmaker in the long run. Next, take some time to go through the list of sports markets provided. You'll gain an understanding of the different events you can bet on after the French Open has concluded.
Finally, investigate the bookmaker's customer support options. You may not see the value in this at first, but if an issue arises, you'll be glad you did. We suggest going with a bookie that offers 24/7 support.
Remember that you're under no obligation to sign up for any offers presented to you. Only claim a bonus if you see value in it.
French Open 2022 Pre-Tournament Betting Odds
Here are the odds for the outright winner of the French Open. The odds, courtesy of bet365, are accurate at the time of publishing and are subject to change. These odds will change a lot over the coming months. Keep checking back for the latest prices.
| Player | Odds to win French Open 2021 |
| --- | --- |
| Rafael Nadal | 6/5 |
| Novak Djokovic | 9/4 |
| Dominic Thiem | 4/1 |
| Stefanos Tsitsipias | 16/1 |
| Roger Federer | 16/1 |
| Daniil Medvedev | 16/1 |
| Alexander Zverev | 20/1 |
| Diego Schwartzman | 33/1 |
| Andrey Rublev | 33/1 |
| Jannik Sinner | 50/1 |
*Odds as of 10/01/2021 at bet365, all odds are subject to change
French Open 2022 Betting Odds
Finding the best French Open 2021 betting odds is no small task. In fact, it goes hand-in-hand with finding the best French Open betting offers. It's also worth knowing how the bookmaker derives the odds.
One bookmaker might offer fantastic odds on the outright winner of one match, while another gives you favourable prices on another market for the same game. 
The best solution is to use several sportsbooks. Not only can you take advantage of multiple French Open 2021 sign up offers, but you'll have the choice of wagering at the best odds too. The reason odds differ between bookies is the time it takes to receive information on a particular sporting event. Some bookmakers have access to information in advance of another, so it can adjust its odds to suit the market quicker.
Our Top Selection of French Open Betting Offers
How do you know which French Open betting offers are worth looking at and which are a waste of your time? To help you out, we have put together a list of our five top French Open betting promotions to look out for.
Accumulator Bonus
Some sportsbooks reward an extra bonus when you put together an accumulator bet containing several different bet selections. For example, you can wager on the outright winner as well as the first set winner. You could also mix it up with other betting markets for single or doubles matches.
In-Play Insurance
Here you'll receive a small percentage of your net losses back over a given period. Usually, the reward comes in the form of French Open 2021 free bets. Don't go wild though as there's often a maximum amount you can claim.
Accumulator Free Bets
This time you're given French Open free bets when you stake a particular amount on the tournament. There's no use trying to save these rewards, as they're often only valid for around 24 hours.
Live Streaming Club
If you prefer in-play betting, then this fourth French Open betting offer is for you. One of the perks is that you can receive free bets when you place a minimum number of wagers in a given week.
Welcome Promotion
You can find sign up offers that award free bets when you wager over a threshold amount. Although you can only claim the reward once, it's an excellent way to get things started.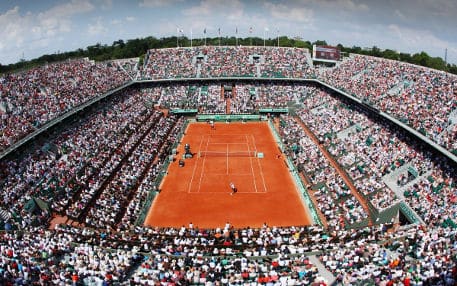 French Open 2022 Bet Types
You'll find a large selection of bets you can place at most French Open 2021 betting sites. To help you navigate this sea of betting markets, we've identified the main ones to complement your French Open betting offers.
The first type you should consider is an outright bet, where you're predicting the overall tournament winner The most likely winners get the shortest French Open 2021 odds. In tennis you don't have to wait a long time before the final results, making it an appealing option for most.
Next is a match bet. Here you're looking at who will win a single match rather than the entire tournament. It's also very simple as there are only two options – backing either player to win.
The third popular type of wager is a handicap bet, which is similar to a spread bet in other sports. You stake money on a player to perform as you expect or better. For example, you wager on a player to win two or more games than their opponent. Your selection doesn't necessarily need to win the match either.
Over/Under betting is very similar to handicap bets. You're wagering on the number of sets it takes to complete the match, instead of betting on a particular player's result. If you bet that one of the competitors will win in two sets, then as long as one of the players achieves this you'll win the bet.
Correct Score is another popular type of bet you can combine with your French Open betting offers. Here you can pick either the correct score for individual sets or the entire match. For example, you could bet that player one beats player two, 6-3. You can also bet on the number of sets in a match. In a three-set match, there are four possible results.
Finally, in-play betting is when you place a bet on a match that's currently underway. This betting format offers a host of smaller markets you can take advantage of. The one thing to look out for though is the ever-changing odds as the match progresses. The earlier you place a bet, the better the odds.
French Open 2022 Free Bets
Free bets are usually awarded alongside French Open 2021 betting promotions. The premise behind these French free bets is simple. Instead of staking real money on a particular outcome, you can cover the wager with one of your free bets. You should be aware that to claim most free bet offers; you need to make a deposit and/or place a qualifying bet.
French Open 2021 free bets will have a short time before they expire. The period depends on which betting site you use, but generally, the free spins won't last longer than seven days.
You can also earn free bets when you subscribe to one of the bookies' French Open 2021 sign up offers. T&Cs apply.
How to Watch the 2022 French Open
The French Open is one of the few tennis tournaments that is broadcast for free on terrestrial in the UK.
The majority of matches will be on ITV4, with occasional matches on ITV1. Both the men's and women's finals will be on TV.
It is available to stream via the ITV Hub and many bookmakers. If you're not a fan of the ITV coverage, then you can also catch the action on Eurosport.