The 2017 Rome Masters (Italian Open) takes place between the 16th and 20th of May. 
The favourite for the Rome Masters is Rafael Nadal. He has won here five out of the last ten times, and made the final seven times. Djokovic has won four times, and of course Andy Murray won here last year. Nadal's track record here is fantastic, and his current form on clay is his best for many years. Year to date he has won all 15 matches on clay, with 88% of service games won.
It's incredible form that he has found at the later stages in his career, especially when one makes consideration to the injuries he has endured. Those 15 wins this year has meant successes on clay at Monte Carlo, Barcelona and Madrid. His form should lead to more success at Rome, and at priced at just 1.83, that is certainly what bookmakers think too.
He beat Djokovic in the semi-final in Madrid. Djokovic has described himself being at a 'transitional' stage in his career. This time last year, he was ranked number one in the world, and shortly after, had completed a career grand slam. For such a talented player to achieve so much, he then subsequently found 'emptiness', and faced a new challenge of motivation. After all, what is there left for him to achieve?
Last month he fired his entire coaching team as he starts on this quest to transition into a new stage of his career. Despite this challenge, Djokovic is still more favoured than Murray at Rome.
Murray, although the top seeded player going into the Rome Masters is only fourth favourite to win here, and can be backed at odds of 10.00.  His current form is not good, and there is mixed speculation to either him being burnt out after a demanding 2016 (including an intensive training block in December) or  whether he has yet to recover fully from shingles at the beginning of this year.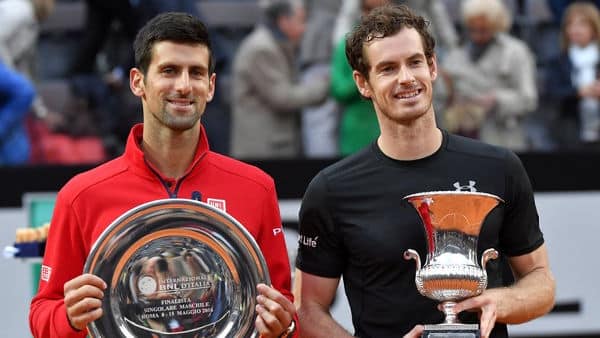 Murray won't have it easy at the Rome Masters either. In the third round, he is set to face in-form Alexander Zverev. Zverev would however also be fatigued, having reached the quarter finals of the Madrid Open it means he had played eight matches in just ten days. With just a few days rest between the tournaments, Murray will be better favoured against the youngster. He will still need to face Milos Raonic, Stan Wawrinka and Marin Cilic following success against Zverev.
However he fares, it is not possible for Murray to lose his World Number One ranking.  He will be defending the 1,000 points he accumulated winning at Rome last year, and after Rome he will be defending 1,200 points he earned reaching the final of the Roland Garros final. Eyes will be on both Murray and Djokovic to see if they can challenge Nadal and his resurgence of form.
How to Watch The 2017 Rome Masters
Sky Sports hold broadcasting rights to the Rome Masters.
It is possible to stream the Rome Masters, with it available at a few bookmakers including Bet 365 and Betfair.
2017 Rome Masters Outright Winner Market Betting Odds
Not many of the bookmakers currently have a market for the outright winner at the Rome Masters.  One of those who does is Bet Victor, who for all of the reasons above heavily favour in-form Nadal to win.
Rafael Nadal – 1.83
Novak Djokovic – 6.50
Andy Murray – 10.00
Stan Wawrinka – 13.00
Dominic Thiem – 17.00
David Goffin – 21.00
Alexander Zverev – 26.00
Milos Raonic – 29.00
Juan Martin Del Potro – 34.00
Kei Nishikori – 34.00
2017 Rome Masters Betting Offers
There are not many specific offers for the Rome Masters, which means you'll need to look at some of the 'always on' tennis offers that betting sites have running.
Double winnings if your player loses first set but wins the match – Betway have this offer on for the duration of the Rome Masters. Back a player to win a match with a minimum of £5, and if the player loses the first set but goes on to win the match, Betway will double your winnings with the extra paid as a free bet up to £25.
Loyalty free bets – The current Paddy Power loyalty tennis betting offers runs through to June, meaning it will cover the entire Rome Masters. Place 50 bets in a given week, and Paddy Power will give you a free bet equal your average stake.
Accumulators – This one requires more depth, but there are plenty of opportunities to get a bonus on your tennis accumulator at the Rome Masters. You can get a round up of all of the accumulator offers available in this article.