Canelo Alvarez fights Gennady Golovkin in Las Vegas on Sunday 17th September at around 2am.
Last month we had the highest profile fight for some time with Mayweather vs McGregor. Although very lucrative financially, most were aware that the fight was not a serious one, and was more of a publicity stunt than a serious boxing bout.
While the Alvarez Golovkin match won't receive the same mass media coverage, there is no doubt that this will be the superior fight.  Golovkin has described the fight as the "biggest of this era"  and largely (casting aside the usual hype leading up to a fight) his claim is very fair.
Golovkin holds the WBA, IBF and WBC and middleweight titles, although only the first two are up for contention as Alvarez 's poor relationship with the WBC means he will pass up the WBC belt should he win on Saturday. That means should Alvarez win on Saturday night, that particular title will become vacant.
There is no clear favourite for this bout, with betting sites marginally favouring Golovkin.
Golovkin's winning record is impressive. He is unbeaten, and of his 37 wins, 33 of them have been achieved through knockout. He is well known for his hard hitting, and his chin which itself can take a battering. His biggest challenge to date was Jacobs, which went the distance and was won on a unanimous decision.
Alvarez, who earned the nickname 'Canelo', meaning 'cinnamon' due to his red hair has a tattoo on one of his biceps that reads "No boxing, no life".  He has been boxing all his life, and has earned a living from the sport since the age of 15. Although he is nearly eight years younger than Golovkin, he still has an excellent record winning 49 or his 51 bouts.
He is not a natural middleweight boxer, having dominated at welterweight and super-welterweight, he is stepping up to a new weight category. Any concerns that Alvarez would struggle to fight a big fighter were dismissed with a very convincing performance against Julio Cesar Chavez Jr back in May. It was immediately after this fight that he announced this week's fight would happen; "Golovkin, you are next my friend […] Yes sir, it's done".
Although this is a serious fight, and won that boxing fans are looking forward to, there is still good money up for grabs. Both fighters are due to pick up $15m for fighting, plus their share of the pay-per-view earnings.
While Golovkin has the better track record, and a stronger punch, an unconvincing performance against Daniel Jacobs means the fight will be very balanced. The fight could happen at any time from 2am to 4am on Sunday morning so there may be some tired faces in offices on Monday.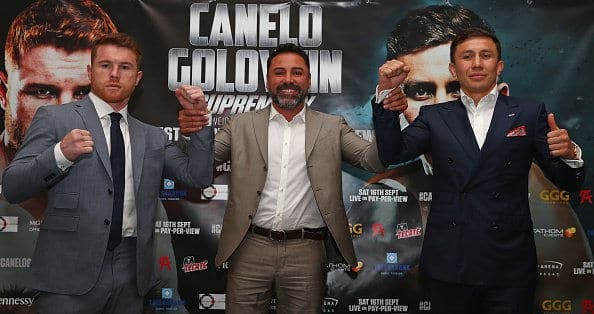 How to Watch the Alvarez Golovkin Fight
This fight will not only be better than Mayweather vs McGregory, but also is cheaper at £16.95 as a pay-per-view event. Unlike a lot of fights, this one is not on Sky Box office, but rather channel BoxNation.  How much you pay depends on whether you're a subscriber, so here are the full details:
If you are a BoxNation subscriber – you will be able to watch the fight at no extra cost
If you are not a BoxNation subscriber and want to subscribe – then you subscribe for £12 per month (plus £8 activation fee)
If you are not a BoxNation subscriber and do not want to subscribe – you can pay £16.95 as a box office purchase or on Virgin on demand
If you want to watch the fight online – then you can subscribe to the BoxNation website for £12 per month (plus £4.95 activation fee)
Alvarez vs Golovkin Betting Odds
Golovkin is favourite with the bookmakers. He is priced at 1.61 to win on Sunday morning, although Alvarez is priced little over evens himself. Odds are accurate at time of publishing and are provided by Bet 365 (subject to change).
| Outright winner | Odds |
| --- | --- |
| Gennady Golovkin | 1.61 |
| Canelo Alvarez | 2.30 |
Bookmakers are not sure whether this fight will go the distance, with the odds largely evens:
| Will the fight go the distance? | Odds |
| --- | --- |
| Yes | 1.80 |
| No | 1.90 |
It is thought that Alvarez won't want it to last 12 rounds to prevent Golovkin gaining momentum, but if it does go the distance, and Alvarez can get through 12 rounds, then he is marginally preferred to win the fight:
| Fight Outcome | Odds |
| --- | --- |
| Golovkin to win by KO, TKO or disqualification | 2.37 |
| Golovkin to win by decision or technical decision | 4.50 |
| Alvarez to win by decision or technical decision | 3.00 |
| Alvarez to win by KO, TKO or disqualification | 8.50 |
| Draw or technical draw | 19.00 |
Alvarez vs Golovkin Betting Offers
While this hasn't drawn the same attention as the Mayweather McGregor fight, more serious boxing fans will watch this one. At time of writing this preview, we're still a good few days away from the fight. As we draw closer, keep an eye on our boxing offers page, as new ones will be added there.  For now, there is just the one offer for existing customers, which is available via 10Bet:
Price enhancements with the extra paid as a free bet – You can back Golovkin at 4/1 to win by decision or technical decision, or Alvarez at 9/1. If your bet wins, the extra winnings will be paid out as a free bet.