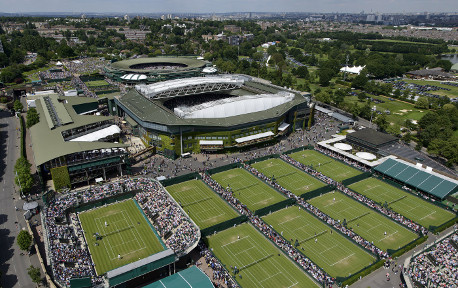 Wimbledon 2015 | 29th – 12th July
In a summer of less sport than recent years, Wimbledon this year will garner even more interest than it usually does.
Tennis is often favoured by punters to bet on since compared to a lot of sports, it is assumed that the better player will be victorious.  Wimbledon starts on Monday 29th June 2015 and there will be a lot of people testing that hypothesis. We've crunched some numbers to test it, to see whether really the favourites always win, and now that the draw has been made, we have an even better understanding of the chances of players.
If you're looking to bet on the outright winner of the tournament, you'd probably want to bet on one of the top three seeds, which are Djokovic (1st), Federer (2nd) and Murray (3rd).  Nadal, Djokovic, Federer and Murray combined have won 37 of the past 41 Grand Slam titles according to the ATP, however Nadal is struggling with injury and recent form has meant he has slipped to number ten in the Wimbledon seedings.
Betting websites such as Bet 365 are predicting Djokovic to win outright, with his odds being little over evens at 2.25. Second favourite is Murray at 3.50 and odds on Federer are quite long, at 7.00. Federer turns 34 in August, and will be looking to win a record eighth Wimbledon title. His form has been building up to this tournament, which is his favourite and he will be focused on making history. A lot of Brits however will be betting with emotion as much as rationale, which contribute towards Murray's odds being very short this year.
Murray was the first Englishman in 2013 to win Wimbledon in 77 years. If Murray is to win Wimbledon again, he will may have to face Djokovic in the final who he has lost to eight times since he last beat him in 2013. None of those eight defeats have been on grass however, and interesting Djokovic has never taken a set off Murray on the grass surface. Furthermore, Murray only marginally lost to Djokovic in the recent French Open so he will be feeling bullish if he has to face the Serbian.
We would expect there to be more offers created as the tournament goes on, but for now, the following are the special offers that betting websites currently have running:


Boylesports: Money back if Federer/ Sharapova wins
If you think that Federer still has what it takes to win Wimbledon, they you will want to consider placing your outright tournament bet with Boylesports since should he do so, losing bets will be refunded as free bets up to the value of £25. The same applies for the Women's single should Sharapova win the title.


Unibet: Money back if Federer wins / free in-play bet
Similar to the above, Unibet will refund losing outright winner bets if Federer wins but up to the value of £30. The second offer they have relates to in-play bets. Place four in-play bets and should the fifth lose (irrespective of the outcome of the other four but minimum odds of 1.40) then the fifth bet will be refunded up to £5.