The 2016 Champions League starts on 13th September,  with the final being played on the 3rd of June.
Real Madrid are the defending champions, last year beating Atletico Madrid 5-3 on penalties after extra time. They have progressed through to the semi final stages now and are the marginal favourites to retain the trophy.  Here are all the important dates you need to get into your diary to make sure you avoid any clashes. Valentine's day will be the tricky one for many.
Group stages – 13th Sep – 7th Dec
Round of 16 -14th  Feb & 15th March
Quarter Final – 11th – 19th April
Semi Final – 2nd – 10th May
Final – 3rd June
From next year there will be some changes to how matches are shown. Currently there can be two games that kick off at the same time of 7:45pm. Going forward, one of the matches will kick off at 6pm, and the second match will kick off at 8pm to enable people to watch more of the games.  The 6pm fixtures will be a challenge to get out of work on time in the UK to see. We're sure pubs around the corner from the office will do well out of this.
How to Watch the Champions League Live on TV
BT Sports hold the broadcasting rights in the UK, requiring a subscription.
However, as part of the deal, BT Sport will make the final available free to watch, including on Freeview.  In the past, when BT Sport have had free to view games, it has only been broadcasted in standard definition, leaving people to reflect on how they ever coped watching live sport before HD rolled out.
There have been other, larger 'issues' with BT Sports holding the rights to the Champions League. Historically, when Sky held the rights in conjunction with ITV, it meant there were games available on terrestrial. That's no longer the case. As a result, interest in the Champions League has been declining, and the amount of people watching it has reduced.
There was concerns at UEFA about this impacting the long term interest in the competition, so ahead of the most recent auction for rights, there was speculation that they would ensure some of the games was broadcasted on terrestrial again. There was evenn a rumour that Channel 4 could show some games.
However, things have got worse for fans without BT Sport.  BT Sport trumped everyone with a bid of £1.2bn to extend their right to exclusively broadcast Champions League football up until 2021. We're sure as soon as UEFA saw the £1.2bn bid, any concerns about accessibility to watch the games disappeared.
Furthermore, BT also won the rights to show highlights, so there will be absolutely no coverage of the tournament on terrestrial TV at all. Some highlights will be made available on social channels.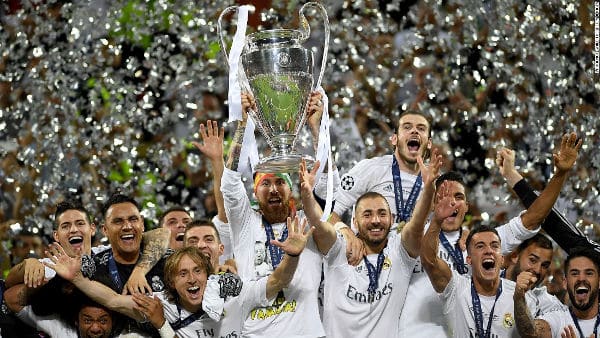 Champions League Betting Odds
We're now at the semi finals stage, and with one leg already played, we have a better understanding of who will progress to the final.  Real Madrid are the marginal  tournament favourites, and have a three goal advantage going into the second leg against Atletico Madrid. The odds are provided by Bet 365 for the outright winner market, and are correct at time of writing:
Real Madrid – 1.83
Juventus – 2.10
Monaco – 51.00
Atletico Madrid – 51.00
Champions League Betting Offers
There are a loads of offers for the Champions League, and often new ones appear. See our football offers page for the latest ones, and we'll continue to update this page each week.
Juventus vs Monaco (New customers 9th May) – New customers have the alternative of the usual welcome bonus with enhanced odds on the Juventus game. You can back Juventus at 14/1 to win the second leg within 90 minutes.  There is a maximum free bet of £5 and the enhanced winnings are paid in free bets. Around £3 would be paid in cash, and around £63 in free bets.
Juventus vs Monaco (9th May) – For this game specifically, Boylesports will pay double winnings if either side hit the crossbar. A maximum of bonus of £500 in extra winnings can be won with this offer, on a maximum stake of £25. Another technicality to point out which most people miss, is that after striking the crossbar, the ball must come back into play.
Win VIP tickets to the final – Betway are giving away two hospitality tickets to the final, and for the next 99 runners up – free bets of varying amounts. To win, you must first opt in, and then winning bets between the 2nd May and the 14th of May will contribute towards your points total on a leaderboard. The longer the odds on your winning bets, the more points you earn.
Get paid out as a winner if your team goes two goals up – This offer is from Paddy Power and is available for all games.  If your team goes 2 goals up, Paddy Power will pay you out as a winner straight away.  There has been some great historic comebacks in this competition, including Liverpool in Istanbul so nothing is a given here.
Accumulators on your champions league bets – We've written up an entire article on where it is best to place your accumulator bet so we'd recommend heading over here to check them all out.