The US Open this year takes place at Erin Hills, and starts on the 15th June at 6pm (UK time).
Each year the US Open is hosted at a different venue, and for 2017 it's the turn of Erin Hills. The US Open is typically held on more challenging courses, with links style conditions and Erin Hills is no exception to that.
It is located in Wisconsin, and the land is predominately shaped by nature. The land has been crafted by glaciers in the past, and when the course was designed, the architects planned 18 holes with the need to make minimal changes. In fact, around 90% of the course is as the land was prior to the golf course.
The course has a couple of defining characteristics, all of which will make the US Open very interesting. First of all, it is long. At nearly 7,700 yards, the par 72 course will be almost the longest major of all time.
Secondly, the course will be very demanding. Although there are no water hazards, and no out of bounds, the rough, windy conditions and bunkers are going to punish players. Any player who strays from the fairway will have to deal with the fescue grass. At nearly 3 foot, and very dense, it can genuinely be nearly impossible to find your ball, let alone play out of it. It's no surprise that winners of the US Open always perform well on the scramble statistic, and we should see exactly the same at Erin Hills.
With the course being both flat and having high exposure to the elements, wind could also play a part this week.
The course isn't old – in fact it only opened in 2006. That means that only the US Amateur Championship has been hosted there before. Just a handful of the 156 players played in that competition (Jordan Spieth being the most notable), so the vast majority have not played here in a competitive environment. This could mix things up a bit.
It's closed to the public, but there is a lot of speculation that the greens are in excellent condition, which is exactly what the USGA want after the controversial 2015 US Open at Chambers Bay. The players were very vocal then their frustration and despair with the course selection.
Starting the competition, Dustin Johnson is the clear favourite. He can be backed at 8.25 ahead of the tournament starting. He won it last year, but you have to go back nearly 30 years to find a successful defence of the title.  Johnson is expecting the birth of his second son just prior to the tournament. That is unlikely to impact his game but the odd injury he incurred at Augusta could. Since that moment, his form has not been great, so this years US Open will be a real test of whether he is back to his best.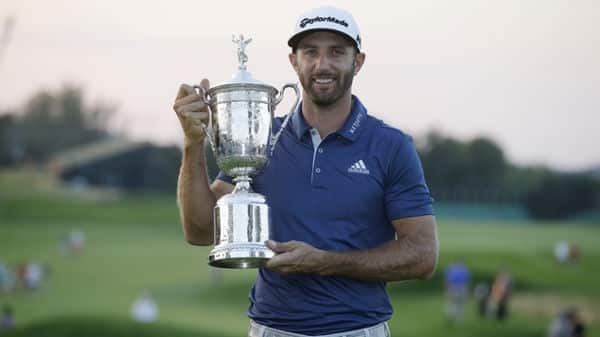 One of the players hoping to provide an upset is Rory McIlroy who makes a welcome return from injury and is priced at 14.50. Although Erin Hills and the US Open is suited perfectly for his game, the lack of competitive play this year will be a hindrance and explains why he is priced quite long.
Such are the conditions that it is possible we'll have a maiden winner here this week.
There is one notable absentee from the US Open this year and it's Phil Mickelson. Having finishes second here six times, and being the only Major he is yet to win, it goes really is admirable that is he putting his daughter's graduation over the tournament. He hasn't officially withdrawn, but needs the weather to delay the start significantly in order to compete. Not even his $40m private jet will get him there fast enough.
2017 US Open Betting Odds
Despite the recent dip in Dustin Johnson's form, he still remains the clear favourite for the US Open. The odds for outright winner are supplied by 10Bet and are accurate as time of writing:
Dustin Johnson 8.25
Jason Day 13.00
Jordan Spieth 14.50
Rory McIlroy 14.50
Jon Rahm 20.50
Rickie Fowler 25.00
Justin Rose 25.00
Sergio Garcia 25.00
Hideki Matsuyama 28.00
Adam Scott 30.00
How to Watch the 2017 US Open
The only way to watch the US Open in the UK is on Sky Sports. Coverage starts at 6pm on Thursday. It is not possible to stream unless you have a Sky Go account.
If you're counting down the minutes, and want some build up coverage, then switch to Sky Sports 4. There is build up coverage all day every day leading up to Thursday.
2017 US Open Betting Offers
Being one of the majors, there are lots of betting offers available.
Back a player to win, and receive free £2 bets – Back any player to win the US Open with £20, and Boylesports will give you a £2 free bet every time they score at 2. With the tricky conditions, it's likely all players are going to stray or not find the green at some point so even the favourites are likely to possibly get a 2.
Paying 8 places at 1/5 odds – There are two bookmakers paying out eight places at 1/5 odds; Paddy Power and Betfair.
Paying 6 places at 1/4 odds – As an alternative to the above, if you want slightly fewer places but much better odds, then Stan James are paying six places at 1/4 odds.
Money back if your player comes 2nd or 3rd – Back a player to win the US Open and if your player doesn't win, but does come either 2nd or 3rd, Winner will refund your losing stake as a free bet up to £25.
Paying 7 places AND money back – The hybrid offer, and possibly the best comes from Boylesports. Boylesports are paying seven places at the US Open, and if your player doesn't win, but does come 2nd or 3rd, then Boylesports will refund your losing stake as a free bet up to £20.