The 2017 ICC Champions Trophy takes place between the 1st and 8th June in England and Wales.
It's a one day international (ODI) tournament that sees the top eight teams battle it out. It's played every four years (more frequently in the past), and is probably the second most important international cricket tournament after the world cup. The tournament was last held in 2013 when India beat England in the final. This year the eight teams are split into two groups:
Group A – England, Australia, New Zealand & Bangladesh
Group B – India, South Africa, Sri Lanka, & Pakistan
Although it isn't knock out during the group stages, just one loss can prohibit a team progressing. Teams and individuals will also be looking to make a statement in their opening games. England did exactly that yesterday, beating Bangladesh.  Bangladesh started slowly, but quickly picked up the pace. If it wasn't for the last five overs or so, they would have put a better score up but it meant England were able to win by 8 wickets and have a few overs to spare.
Recent coverage has focused on the pay dispute between the players, lead by David Warner, and Cricket Australia.  But Warner has one of the strongest batting averages over the past year and will be a key player for them on the field too.
South Africa have often under performed in big tournaments, however with the world number one batsman AB De Villiers, and world number one bowler Kagiso Rabada, they are third favourites.  Although South Africa lost recently to England, their form has otherwise been good beating Sri Lanka and Australia.
Last out of the big four is India. At 5.00 there is a little more value, and Kohli will be looking to improve his form versus the disappointment in the IPL. India were the first team to score 300+ score in an ICC Champions Trophy match . 300 has become the new normal run total now, and teams will be looking to  score 330 upwards to create something to defend for this tournament.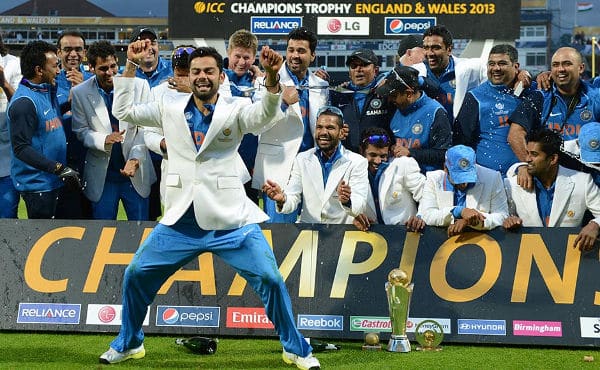 How to Watch the 2017 ICC Champions Trophy
Sky have the broadcasting rights in the UK. All games will be broadcasted live on Sky Sports 2.
There are highlights available on terrestrial TV. The BBC will be showing highlights on BBC 2, although you'll have to stay up quite late in order to see it. Some are not even being broadcasted until after midnight.
2017 ICC Champions Trophy Betting Odds
England start as favourites. These odds are taken after England's victory against Bangladesh, explaining the even longer odds than expected on Bangladesh.
2017 ICC Champions Trophy Betting Offers
Now we're into the full swing of the tournament, there are quite a few betting offers available.